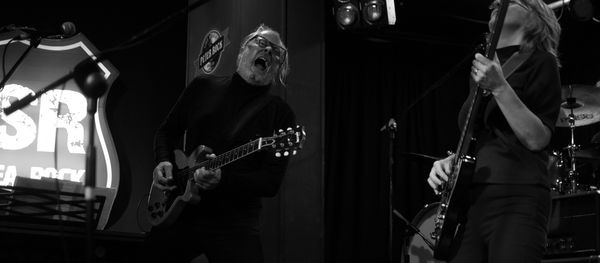 Supertone artists Simon Campbell and Suzy Starlite of the Starlite Campbell Band brought a taste of real British Rock & Blues to the Peter Rock Club in Valencia with the debut performance of their forthcoming blues album 'Blueberry Pie' for the recording of the band's new video.
The band comprised of Steve Gibson on drums (Van Morrison, Jack Bruce, Chris Farlowe) and Christian Madden on Hammond Organ and Wurlitzer (Atomic Rooster, The Earlies, Jimi Goodwin) and were joined by outstanding Valencian harp player Danny Boy Sánchez, who also appears on the new record.
Suzy and Simon co-wrote the album: Suzy commented "It was emotional to say the least to bring the songs to life on stage. The audience were incredible and their support really blew us away; people were dancing and cheering and we really felt the love - you couldn't have wished for a better night!"
Simon added "It would not have been possible without the help of our friends and supporters. It wasn't a simple turn up and play scenario as we took almost every piece of gear that was used on the recording as we really wanted people to get a real taste of what the album will sound like.
Ximo Romero and the mighty men of Estivella ensured the Hammond Organ and Leslie made it safely out of the studio. Our great friend and sound engineer Salvador Marti rocked up with a second van to transport the many electric and bass guitars, Hiwatt DR201 Bass Head, Bergantino 6x10, the full Sakae Drums Trilogy Kit, Germino and Gartone Vibrato King amplifiers... There was so much gear being moved I'm sure our labradors Hummock and Bobby thought we were moving house!"
Special thanks to Simon Mark Taylor Photo and Pedro Wessels for some outstanding stills photography and German Escudero and all the great staff at Peter Rock Club for making us feel so welcome.
Simon and Suzy are now mixing the album here at Supertone and then, in early November, the 'Pie' will be ceremoniously placed in the mastering oven by head baker Jon Astley of Close To The Edge Mastering.
'Blueberry Pie' is available for pre-order on November 10th and released on February 1st, 2017 on Supertone Records.
New Subscription Offer! Make it personal as a direct supporter of Supertone and get access to special discounts, exclusive offers, Suzy and Simon's back catalogue, chat about all things music AND be the first to receive all their new music for the next twelve months - which includes 'Blueberry Pie' and exclusive bonus tracks.
Click the button below and say hello!