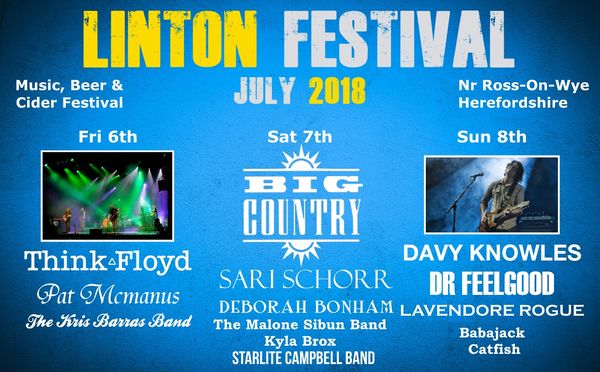 European Blues Awards nominees the Starlite Campbell Band kick off the 2018 festival season at Linton International Blues Festival, UK on Saturday 7th July.
The full band will be playing featuring:
Simon Campbell - Electric Guitar / Vocals
Suzy Starlite - Bass guitar / Vocals
Steve Gibson - Drums
Jonny Henderson - Wurlitzer Electric Piano and Hammond Organ
The Starlite Campbell Band are joined by a great line-up of artists across the weekend including Dr Feelgood, Big Country, Sari Schorr, Kyla Brox, Deborah Bonham, Pat McManus, Babajack (feat. Troy Redfern), Catfish, Davy Knowles, La Vendore Rogue, Travelling Redwing, Think Floyd and The Malone Sibun Band.
The Linton Festival was started in 2001 when some of the regulars of The Alma Inn, Linton, (near Ross-on-Wye) in the outstanding beautiful countryside of Herefordshire, realised it would be cheaper to get a band to come play at their place rather than hire a mini bus and drive all the way to Dorset. So instead of having one band, they thought "what the hell?" and so booked the whole weekend and got the beer in.
This festival is particularly special to the band as Starlite was born in Ross-on-Wye - a wonderful homecoming where the band will be playing music from their worldwide critically acclaimed debut album 'Blueberry Pie' plus music from Campbell's first two solo albums and new material.
Tickets for Linton Festival are available to buy here.
Following multiple warm up gigs on the Isle of Man, the Starlite Campbell Band will also be touring Australia later in the year, which includes a major International Festival (details to be announced) followed by a two week UK tour which includes dates at the Tuesday Night Music Club - London, Saltburn Blues Club - Saltburn, The Iron Road - Evesham, The Cluny - Newcastle and The Met - Bury with more to be confirmed.
** Also, for one night only, the band will be playing a special one-off 'Power-Trio' warm-up gig at Bristol's famous venue The Mothers' Ruin on Thursday 5th July, 2018.
The Mothers' Ruin - "The best club in the UK for future rock n roll stars!" Noel Gallagher
Tickets for this special Bristol gig are available to buy here.
Hope to see you on the road...