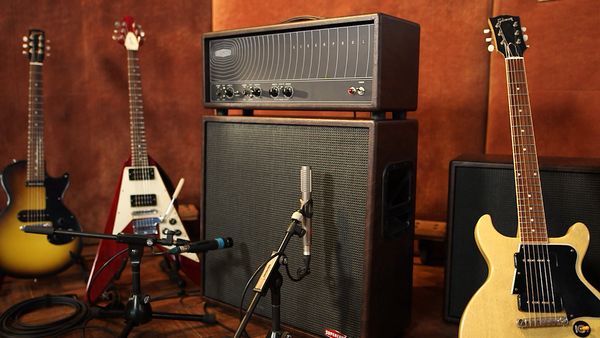 Supertone are delighted to announce the launch of the much anticipated 'Liverpool' guitar amplifier!
The 'Liverpool' represents three years of research into amplifier design by our chief designer Dan Whitelock-Jones whose amplifiers and FX pedals have graced international stages worldwide with an array of artists, some we can't mention and some we can: The Jesus and Mary Chain, The Real People, The Hyena Kill, The Coral, Badly Drawn Boy, Cast and Liam "skin" Tyson.
YouTube videos and soundclips are great, but if you want to truly experience the sonic beauty of the amplifier, we are inviting guitarists to bring their own instruments and try out the 'Liverpool', plus hang out with Dan & Supertone's Suzy and Simon to discuss all things tone!
The legendary Parr Street Studios in Liverpool is hosting the event, a special place where many international hit records have been created from Coldplay to Cast, Elbow to the Smiths, Stereophonics to Rihanna, Doves to Echo and the Bunnymen, to name a few.
Along with the 'Liverpool' there will be a selection of Supertone loudspeaker cabinets, FX pedals and cables to try out, fuelled by Supertone's 'Phantom Power' coffee!
Attendees will be entered into a free draw to win a Supertone LowCap guitar cable worth £44.00. 
More details will be released between now and the event. 
As space is limited, only 30 tickets are available so please book early.
** Please be advised that the event will be streamed live, photographed and recorded for use on the Supertone website, publications, YouTube channel plus marketing materials including the press. By entering this event, you consent to Supertone Records using your image, sounds and likeness.
WHAT IS THE SUPERTONE LIVERPOOL?
The amp is based around an EL84 class A power section design and two quite different preamp stages: channel one with an EF86 tube and channel two with an ECC83 offering a wide variety of tones very simply dialled in.
As you would expect from the name and configuration the sound is very 60's British but the unique twist is that you can achieve high levels of overdrive by 'cascading' the channels and using the 'gravy' and 'thrust' switches (yes really, they are called this).
We have used a minimum of components to retain the vintage feel and sound making your fingers the stars of the show.
They are built and designed by master engineer Dan Whitelock-Jones of DWJ Amplification in Liverpool, England who is working in collaboration with Supertone's tonemeister, session guitarist and music producer Simon Campbell.
Speakers are vitally important and Supertone have developed our own design Alnico loudspeakers which are handmade in England by Tayden Loudspeakers. The 10" and 12" units are available in 1 x 12" (Larry), 2 x 10" (Andy), 2 x 12" (Eric) and 3 x 10" (Pete) cabinets.
The amplifier has speaker outputs for 4, 8 and 16 ohms so basically they can be used with virtually any configuration of cabinet.
SPECIFICATION
Two independent channels linkable in series (cascade)
Voltage selector switch for use with 240V, 220V or 120V AC (50Hz)
Three speaker outputs set at 4, 8 and 16 Ohms
Two models: 18Watts or 35 Watts of class A power delivered by two / four EL84 tubes
Ultra quiet due to superior grounding and ground plane optimised design
Finest components, hand-wired on tag strip
Custom wound power and output transformers to Supertone specifications
Pre Amp output and Power Amp input specifically to be used with the external Supertone 'Effects King' gain impedance interface
Handmade cabinet, finger jointed 18mm baltic birch marine ply and available in two colours of tour grade tolex; black and chocolate
Hand selected and matched preamp and poweramp tubes