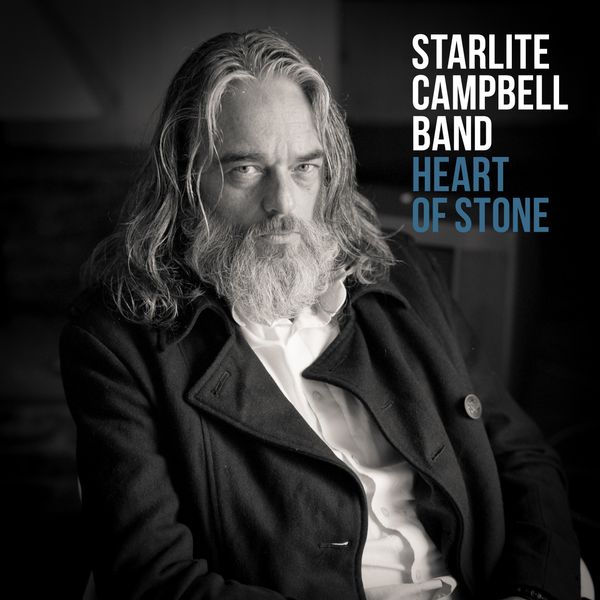 European blues awards nominees the Starlite Campbell band are set to release their new single 'Heart Of Stone' to celebrate the release of their hit album 'Blueberry Pie' on 180g limited edition double vinyl on November 12, 2018.
Recorded as part of the original 'Blueberry Pie' sessions, 'Heart Of Stone' has a stinging, acidic lyric which complements the hypnotic rolling groove of the track.
The cover artwork is by world renowned photographer Phil Kneen featuring Isle of Man based actor Rob Smith in a piercing and remarkable style.
'Heart of Stone' is available to purchase directly from the band on Bandcamp or via Apple Music, Amazon and most online stores. It can also be streamed on Spotify.
The track appears exclusively in physical form on side four of double 180g vinyl which will be released on Monday November 12th, 2018 to support the band's December UK and 2019 European and International tour dates which includes The Met - Bury, The Iron Road - Pershore, Bannerman's - Edinburgh, The Queen Vic - South Shields, Saltburn Blues Club, The Greystones - Sheffield, Darlington Blues Club and The Half Moon - Putney.
The vinyl pressing has been made possible by the generous support of the Isle of Man Arts Council.
Dave Armstrong said: "As a member of the Isle of Man Arts Council, I am delighted that we can support Suzy Starlite and wish her and her band every success with their tour and album.
I know that Suzy is a great ambassador for the Isle of Man and, as part of one of the most successful and acclaimed rock and roll bands the island has produced, will go on to continue making waves in the blues scene across the world."
Suzy added: "As artists Simon and I love the sounds and atmosphere of the 10 years from 1965 to 1975, in our opinion the halcyon days of music. Blueberry Pie was destined to be released on vinyl and we wrote, recorded and produced the album in such a way that it would sound at its best on this medium. It would not have been possible without the outstanding support of the Isle of Man Arts Council."
The limited edition of 'Blueberry Pie' on 180g double vinyl is available to buy exclusively from Supertone Records.
About Blueberry Pie
The Starlite Campbell Band consist of Suzy Starlite and British blues awards nominee Simon Campbell. Together they wrote, recorded and produced their debut album Blueberry Pie which was nominated for 'best album / recorded work' in the European blues awards and has received extensive international radioplay charting top 10 in the UK, Australian, Netherlands and American blues charts and over 40 four and five star reviews worldwide.
The work was mastered by Jon Astley, who has worked with such luminaries as Led Zeppelin and The Who, with vinyl lacquers cut by Miles Showell at the legendary Abbey Road Studios in London.
About the band
European blues awards nominees the Starlite Campbell Band are husband and wife duo Suzy Starlite and Simon Campbell working with some of the world's finest musicians as a four piece steeped in British blues; think Peter Green's Fleetwood Mac, John Mayall's Bluesbreakers and early Led Zeppelin. With contemporary original songs inspired by real life and real people, the band have a sound and vibe reminiscent of the mid 60's to early 70's - the halcyon days of music.
From Suzy's addictive, fun-loving bass groove and thunderous tone to Simon's explosive vocals and fretwork, the band is joined by keyboard maestro Jonny Henderson on Hammond/Wurlitzer (Robben Ford / Matt Schofield) and shuffle-master Steve Gibson on drums (Chris Farlowe / Larry Garner).
Starlite and Campbell, who married after a whirlwind musical romance, released their debut album 'Blueberry Pie' to rave reviews worldwide and a prestigious nomination for 'best album' in the European blues awards.

The art of the song is everything and Starlite and Campbell fly in the face of disposable music - writing, recording and producing their work, releasing on their independent label Supertone Records.
The band have recently returned from a hugely successful Saturday night headline show at the Merriwa Park blues marquee at Australia's prestigious Wangaratta festival of jazz and blues which attracted over 25,000 visitors with over 300 musicians taking part from the UK, Australia, Europe, USA and Asia.
Co-artistic festival Director Frank Davidson said "The Starlite Campbell Band did more than rock the blues big top, the musical interplay, communication with the audience and get off your arse dance sounds and styles ensured the blues crowd as well as the band had a fantastic experience on Saturday night. The Starlite Campbell band's debut at Wangaratta was an absolutely overwhelming success indeed!!"