SUZY STARLITE & SIMON CAMPBELL | DUO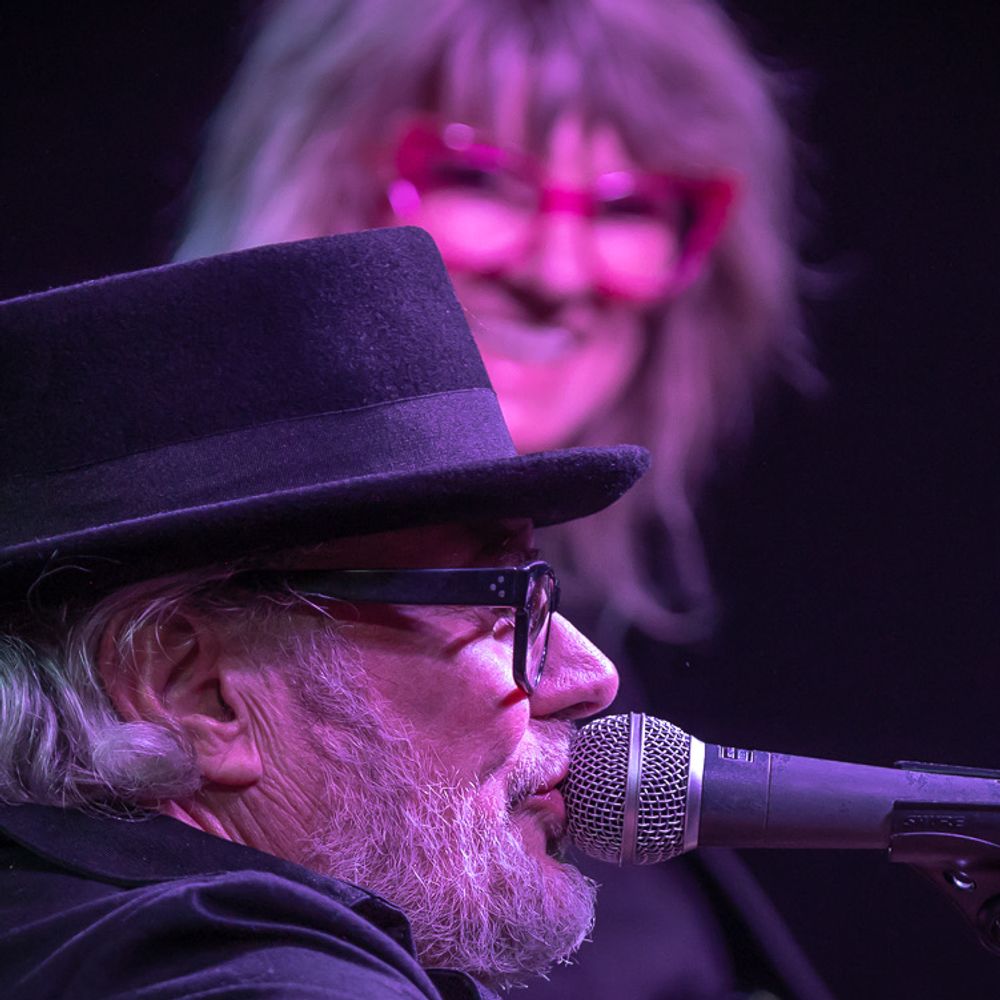 As songwriters, Suzy and Simon love to play intimate shows in a wide variety of venues ranging from cavernous churches in Australia, art centres, outdoor forests in Germany, music bars to house concerts in Europe.
They perform original material from their worldwide critically acclaimed debut album Blueberry Pie plus tracks from Simon Campbell's first two solo albums: ThirtySix, which gained him a British Blues Awards nomination and acoustic album The Knife featuring Andy Cutting, BJ Cole and Andy Seward.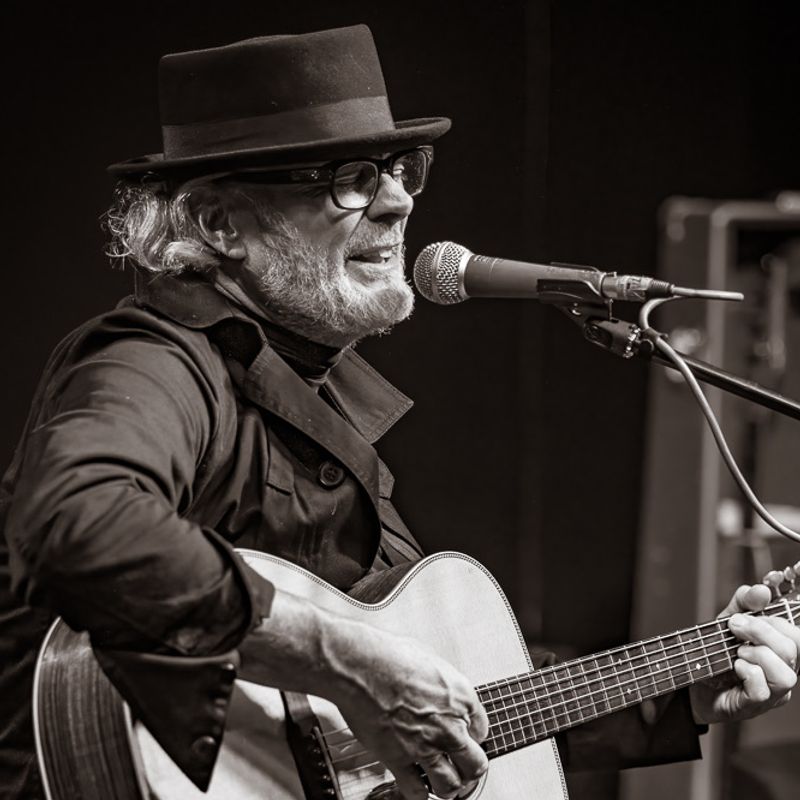 New songs hot out of the creative oven are always on the menu, including music from their band new album The Language of Curiosity and forthcoming acoustic album 'The Coat' due in 2022 recorded at their Supertone Records recording studio near Lisbon, Portugal which is set for release in 2022.
As ambassadors for Fylde Guitars, the album will also feature Suzy's mighty King John acoustic bass, Simon's beautiful sounding Touchstone walnut mandolin and nylon strung Classic.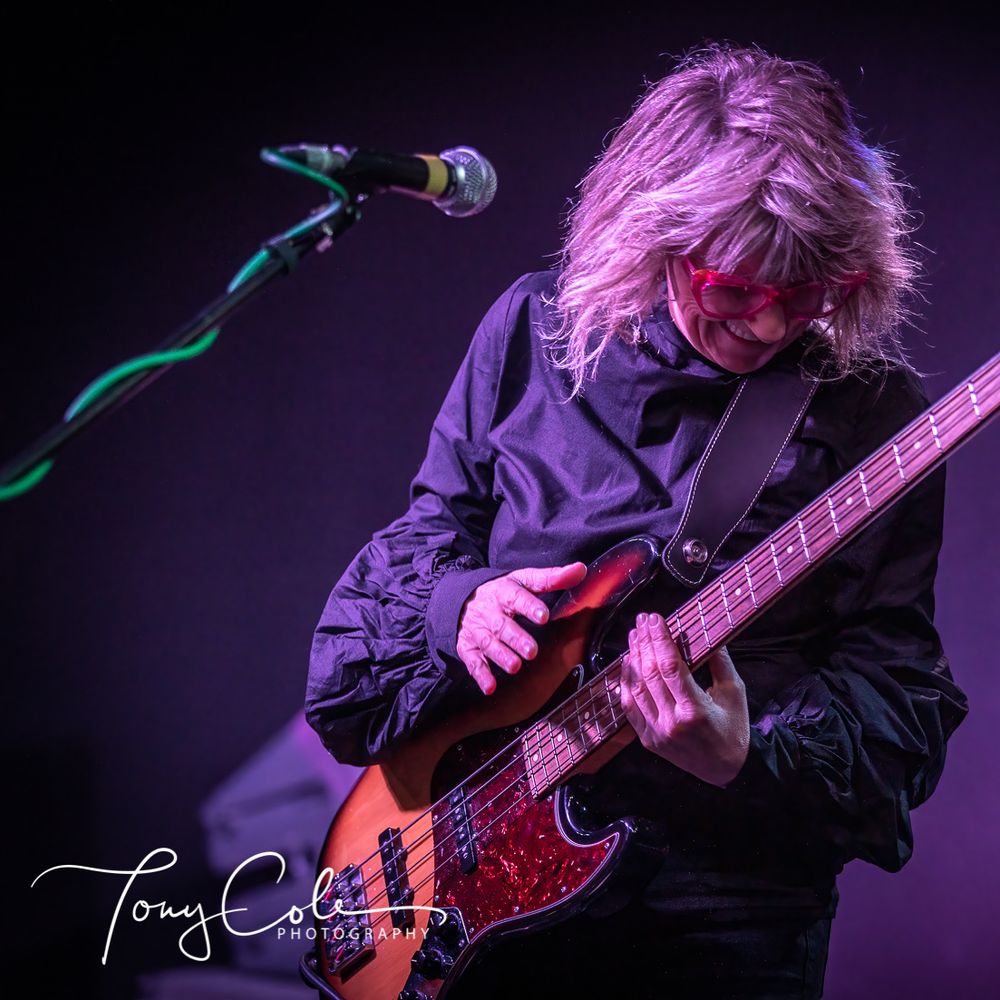 Suzy began her musical career in the acoustic UK folk scene performing at Winchester Folk Festival, Sandbach Folk Festival, Middlewich Folk & Boat Festival, The Mean Fiddler, London to name a few; it's a place that always feels like home.
Suzy and Simon take you on a musical journey of British folk, singing real songs and telling stories about the people they meet and the places they have travelled, making for a very entertaining and engaging show.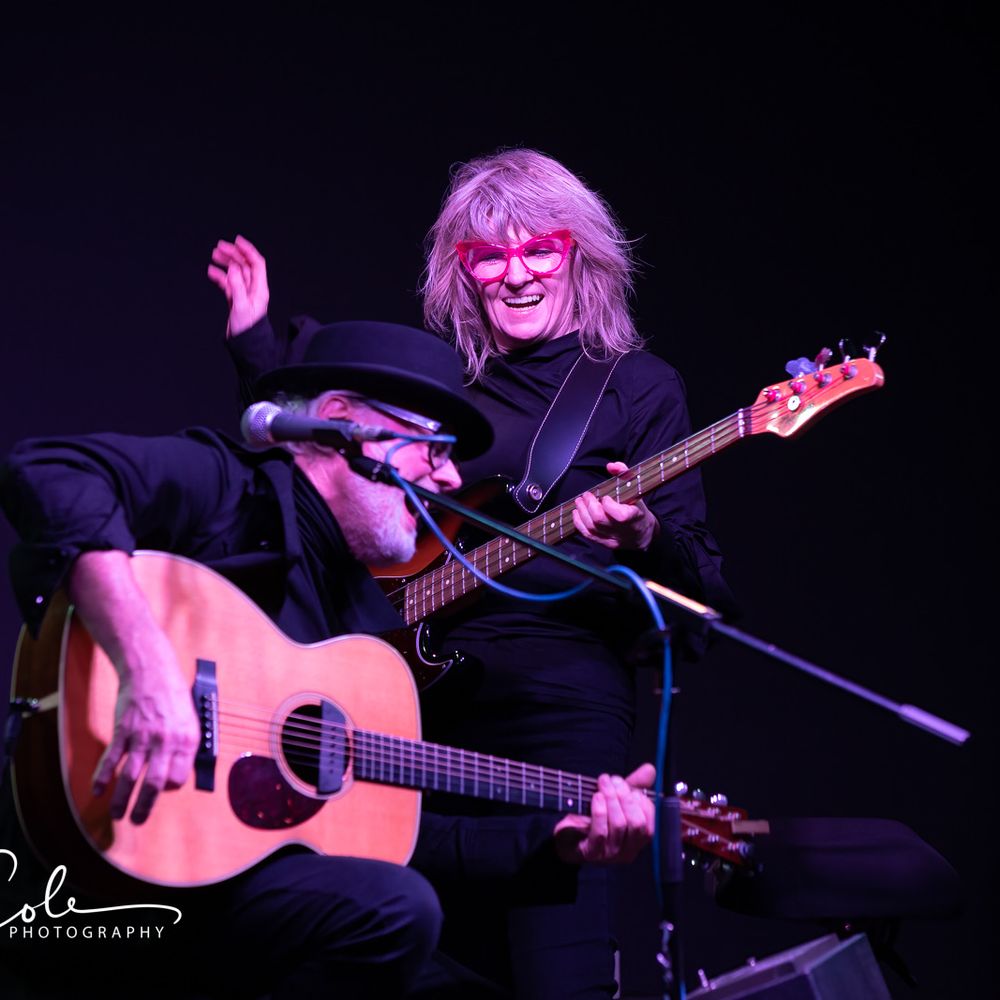 "Blueberry Pie is a great album" - Cerys Matthews, BBC Radio 2 & 6 Music

"Here is no sophomore slump with The Language of Curiosity. Starlite Campbell Band have stepped up their game, and their sound, taking their British blues/rock to a whole other level... A modern-day sonic boom!" | JD Nash, Editor, American Blues Scene

Now taking bookings: Suzy Starlite & Simon Campbell - a fresh taste of British folk. Feel free to get in touch to enquire about availability for duo/trio  performances.
DUO REVIEWS
The Acoustic Couch, Bracknell, England
Red shoes, Cool specs and top quality tunes. Just a few of the highlights at the Acoustic Couch in Bracknell last night, where we were once again made to feel very welcome.   
This is an interesting venue and not your typical performance area but then again, experience has taught me this isn't always the marker for a successful event. Whatever the space, a gig will stand or fall on the connection formed between those on and off the stage. In these nervy days of reduced audience numbers, artists (and audiences) have a decision to make. Do they hang their heads and go through the motions, or do they embrace the moment and give it everything they've got?
It's fair to say last night was not a capacity crowd, but those who attended bonded from the off and this was cemented by the headline act, Starlite Campbell. I'd seen these guys in the full band format before, but never as a stripped backed duo and oh my word, what an excellent performance they gave us. 
As someone who specialises in showcasing acoustic acts, I learnt some time ago that without the comfort blanket of a full electric show, the talents of an artist can be laid bare without the power of the grid. So what a pleasure to see these guys come on and just press the juice pedal and give it all they had from start to finish.
Musically, they are great and the diversity of material and variations of style were most impressive, but that's not the key ingredient of this band. The unique selling point of this act are the guys who give their names to the band; Suzy Starlite-Campbell and Simon Campbell. As well as being very talented, they are engaging, funny and quite obviously loving life, and of course each other. You simply cannot help getting caught up in their ceaseless enthusiasm, which in these days of caution and uncertainty, is a welcome shot in the arm. So, a lesson to the youngsters on the circuit. The audience are the reason you're there and if you are enjoying it, the chances are they will as well.
In conclusion, a big up to Starlite Campbell for an excellent show, to Downtown Roundabout for the opening set and of course to those who came out to support live music. Also a very special mention to Graham Steel for promoting so much live music in the local area - well done that man.
Alan Bates, Promotor
On Friday night it was a real pleasure to go to Graham Steel's Acoustic Couch to see a band that I last had the chance to Photograph at the Rock & Blues Festival in Skegness.
The band was the Starlite Campbell Band with Simon Campbell and Suzy Starlite-Campbell performing a stripped back acoustic session as part of their latest UK tour.
Alan Bates has already written a fabulous review on FB so there's not much I can add except to say these two beautiful people simply performed a superb set. Having not seen them do any acoustic style songs before, it opened up a whole new world of musical enjoyment.
They played a host of material from recent albums as well as some spanking brand new songs from their new album " Language Of Curiosity". If you get a chance to go see them while they're still in the UK you will definitely be in for a real treat.
Tony Cole
Kulturcafé Nebenan, Winsen (Aller), Germany 
"Das Duo Simon Campbell und Suzy Starlite ist am 26.04.2019 Un- plugged im Kulturcafé nebenan in Winsen aufgetreten. Sie haben u.a. Rock- und Blues-Stücke aus ihrem Album "Blueberry Pie" gespielt und es dabei geschafft, das Publikum zu begeistern. Publikum und Veranstal- ter waren hochgradig zufrieden.
Für das Kulturcafé nebenan ist ein wei- terer Auftritt von Simon Campbell und Suzy Starlite für den 21.02.2020 vereinbart."
★★★★★
Für das Kulturcafé nebenan Ilse und Hartmut Schleisieck
Cafe Waldkristall, Hüllhorst, Germany
"Großartige Musik von zwei Herzblut Musikern.  Jeder Song beschert Gänsehaut Feeling. Wirklich sehr beeindruckende Musiker, die eine große Gabe besitzen, mit spielerische Leichtigkeit sehr Proffessionel zu sein. Sie leben und lieben das was sie tun. 
Es war ein Hörerlebnis vom Feinsten. Unsere Gäste waren begeistert. 
  
Wir freuen uns jetzt schon auf das kommende Jahr 2020. 
Am 30. Mai 2020 treten sie wieder bei uns im Cafe Waldkristall auf."
★★★★★ 
Für das Cafe Waldkristall Ulrike Lohrmann
"The duo Simon Campbell and Suzy Starlite performed on April 26, 2019 Unplugged in the Kulturcafé next door in Winsen. You have, amongst others, rock and blues pieces from their album "Blueberry Pie" played and managed to thrill the audience. The audience and the organizers were delighted with the performance.    
We are thrilled to welcome them back on February 21, 2020!"  
★★★★★   
Ilse and Hartmut Schleisieck: Kulturcafé nebenan
"Great music by two 'lifeblood' musicians. They are very impressive instrumentalists,  who possess a great gift of being very professional with playful ease. They live and love what they do. Every song gives you goosebumps feeling and was a listening experience at its best; our guests were thrilled. 
We are already looking forward to them returning on May 30, 2020  to perform again at Cafe Waldkristall."
★★★★★ 
Ulrike Lohrmann: Cafe Waldkristall
Urania Theatre, Köln, Germany
"What a great concert! Suzy Starlite-Campbell and Simon Campbell had it: soulful ballads and finely spun blues switched with greasy, rocking songs and fast-paced tunes. The two Englishmen already conquered the hearts of the Talkin Blues Revisited Show audience at Urania Theater Köln with the first song. Thank you both, you won my heart too - you are lovely guys!"
★★★★★
Richard Bargle,  Director: Urania Theatre, Köln
Die Weinkiste, Hof, Germany
"You did a great job. This was the best Konzert in this year. All our Guests are excited and for the next Konzert in Spring the "Hofer mouthes" will spread it. So I think, we will see us more often in our wonderful region with so fantastic dumplings :-) Best wishes Bärbel und Stefan" 
★★★★★  
Für Die Weinkiste  Bärbel & Stefan Scherdel  
Schützenfest Thören, Winsen (Aller), Germany  
"Wie kann man ein einigermaßen verständliches Feedback zu einer 30-minütigen Unplugged-Show der Starlite Campbell Band bei einem niedersächsischen Dorf-Schützenfest geben? In einem Zelt, vor etwa 250 nichtsahnenden Schützen, die normalerweise erwartet hätten, dass der DJ so langsam die traditionelle Schlager-Party ins Rollen bringt? Als Vorsitzender des Schützenvereins versuch' ich's mal... Ich schnappte mir das Mikrofon, um die beiden Musiker anzukündigen: "Begrüßt mit einem warmen Applaus Suzy und Simon aus England!" Die Thörener Schützinnen und Schützen gehorchten artig. Die Show begann. Zunächst zeigten sich die Thörener verhalten abwartend. Nach wenigen Momenten von "Misgivings" sah man, wie die ersten Füße im Takt auf den Zeltboden tippten. Dann kamen die ersten Leute näher an die Bühne. Und sie begannen, im Rhythmus mitzuklatschen. Immer mehr Leute trauten sich nach vorne und tanzten. Nach nicht einmal zwei Minuten hatten Suzy und Simon das Zelt im Griff. "It started raining." Plötzlich rief mir mein Nebenmann, der Vorsitzende unseres befreundeten Schützenvereins aus Hodenhagen, folgende Sätze ins Ohr: "Seh' Dir die beiden bloß mal an und hör' genau hin. Die spielen nicht einfach nur spitzenmäßig Gitarre. Die unterhalten sich buchstäblich durch ihre Instrumente. Und scheinen sich dabei blendend zu verstehen..." Besser kann man's eigentlich nicht beschreiben. Das waren 30 magische und unvergessliche Minuten brillianter, handgemachter und grundehrlicher Musik von zwei Spitzenkönnern beim Thörener Schützenfest. Danke, Suzy. Danke, Simon. "
★★★★★ 
Für das Schützenverein Thören  Peter Heintel, Vorsitzender
"How can you give a comprehensible review of an unplugged 30 minute Starlite-Campbell-Show, performed in a Lower Saxony village 'Schützenfest' tent for a crowd of maybe 250 people who would normally have expected the DJ to get their traditional party started...?? Well - let me as the shooting club's president give it a try... 
I grabbed the microphone to announce the two musicians: "Welcome with a warm applause Suzy and Simon from England!" "Please give Suzy and Simon a warm round of applause!"
They did, of course. And the Thören people were standing there, at first. Listening. Then they started to move their feet to the rhythm. And then they moved closer to where Suzy and Simon were playing. And they started clapping their hands. "It started raining..." And then, all of a sudden, the president of the Hodenhagen shooting club, who stood next to me, whispered the following sentence in my ear: "Look at them closely, Peter and listen carefully. They are not simply playing the guitar, which they are doing fuckin' well. They are literally communicating with each other. And they wouldn't give a shit about what's happening around them..."  
And he was damn' right. "Lay down, Sally." 30 magic and unforgettable minutes of brilliant  handmade music at the Thören Schützenfest. Thank you, Suzy and Simon."
★★★★★  
 Peter Heintel, Chairman: Rifle Club Thören
A TASTE OF THE DUO
The tracks featured below are a small sample of what Suzy and Simon play, stripping back complex arrangements to expose the beauty and essence of the songs in a very intimate and personal way. 
0:00/6:06

0:00/4:29

0:00/3:29

0:00/2:48

0:00/1:53

0:00/3:51

0:00/4:08

0:00/4:45

0:00/10:05

0:00/0:28
CONTACT US
Please let us know which town and country you are in and when you would like us to play. As we are usually touring, it helps with planning our logistics to make it both environmentally and economically friendly. 
Take a look at our current schedule to see where we are playing and when...
We look forward to meeting you and sharing an evening of music together.